Just sent out a press release to the local papers about the upcoming 38 degrees Save our NHS day rally. The day of action, will be held outside Barclays Bank, Worksop, S80 1JB from 11am and is open to all.
483 people in the area have already signed the petition to all of the candidates standing to be an MP in Bassetlaw in May's general election. The petition asks each candidate to commit to protect the NHS from privatisation, make sure it has the funding it needs, and keep the NHS out of the TTIP trade deal with the US.
We all need the NHS at our best and worst moments in life. That's why I'll be going out this Saturday to spread the word about our campaign and collect signatures on our local petition. Bassetlaw's day of action will show our MP candidates that if they want to sell off or run down our NHS, they'll have a fight on their hands.
Anyone interested in trying to keep our NHS safe should sign the petition:

February 23, 2015 ·

Kris Wragg ·

No Comments


Posted in: Politics
Yesterday I attended a Green Party training day for candidates. Whilst I am still a nominee at this stage, I am hopeful that I will be selected as our candidate for 2015 and will do my best to represent the Green Party and my local party in Bassetlaw.
The training was very fruitful and I learned a considerable amount about attending hustings, dealing with the media and press.
Also more importantly I met lots of very nice people, many of which were candidates for the 2015 General Election, it made me so happy to be in a room full of people looking for the same change in democracy that I am.
A change that will hopefully lead to the country being run for the people that live in it rather than businesses, a change that will lead us to a more sustainable future and a change where poverty is a thing of the past.

February 22, 2015 ·

Kris Wragg ·

No Comments


Posted in: Politics
Decided to switch hosting again to SiteGround as my current provider Arvixe seems to be getting slower and slower as the days go by. Looking at my stats on Pingdom I'm at over 2000ms now for a rather simple website, compared with around 250ms with SiteGround for exactly the same content.

February 18, 2015 ·

Kris Wragg ·

No Comments


Posted in: Internet
Only two weeks ago the Government agreed in the House of Commons to tighten the rules on fracking in the UK after the Labour Party abstained from voting for a temporary ban. Our Bassetlaw MP John Mann was one of the few that did not follow the Labour Party in abstaining from the vote, but these efforts proved fruitless in the end.
The bill has since been passed to the House of Lords where they have effectively rewritten it in such a way as to undermine the protections that were meant to be put in place. The blanket ban on fracking near drinking water sources has been removed, as has the requirement for notifying residents that might be affected. Under the final draft of the bill, the Secretary of State will be given the power to define groundwater protection zones regardless of recommendations from the Environment Agency or local authorities.
How can we call ourselves a democracy when we have an unelected branch of parliament changing bills that have already been agreed by those we elected?
The Green Party believe in the abolishment of the House of Lords and replacing them with a more democratically elected second chamber. No other country that calls itself a democracy retains an unelected branch of parliament stacked full of retired MPs, party donors and a smattering of hereditary peers.
With IGas looking to start exploratory drilling in Misson, Bassetlaw residents are rightly concerned about the impact in their area. In a survey conducted last autumn, Misson Community Action Group found that 71.8 per cent of households in Misson, Misson Springs and Newington were against fracking in the area.
The Labour Party abstained from the moratorium on fracking due to letters from Unions GMB and Unite urging them to oppose the amendment. I believe this shows the true colours of who runs the country, the Conservatives controlled by big business and Labour heavily influenced by the Unions.
Unfortunately thanks to our Government the community has no say in what happens under their homes. This is especially disheartening when a large proportion of them, the Labour Party, decide to abstain from voting to ensure their donations don't dry up.

February 9, 2015 ·

Kris Wragg ·

No Comments


Posted in: Politics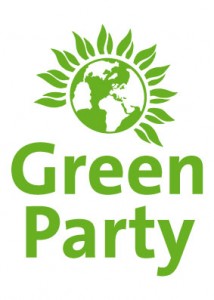 Today we had the founding meeting for the Bassetlaw Green Party, it was quite a fruitful meeting and we managed to agree our constitution as well as assign our various officer roles.
I shall be taking on the role as the Treasury Officer, I also made it known that I will be putting my name forward as a nominee for the 2015 General Election and also would like to stand for Worksop South in the local elections.
We have big plans for the Green Party in Bassetlaw and look to expand our local party's size whilst getting more involved in the local communities.
I am quite excited about the speed at which things are progressing, we are continually gaining more support as the weeks go by and I feel we will do much better than people are predicting during the elections.

February 7, 2015 ·

Kris Wragg ·

No Comments


Posted in: Politics
The Bassetlaw Green Party is opposed to current plans to ignore the European Food Safety Authority (EFSA) recommendation to ban neonicotinoids. British Environment Secretary, Owen Patterson, has already indicated that the Government is likely to ignore the EFSA who said the chemicals 'Äúpose a number of risks to bee health'ÄĚ.
Neonicotinoids are a type of insecticide used to control pests on farmland crops, unfortunately there has been increasing studies showing that this is leading to a drastic reduction in bee populations.
The Government should be representing it'Äôs people as a whole and not its vested interests in mega corporations. Concern about bee populations may seem 'Äėhippy'Äô but without bees we will cause bigger crop problems in the country than the pests these chemicals are designed to stop.
As someone with an allotment I deeply appreciate the job that bees and other pollinating insects provide to us. All too often we forget the intricate balance of the ecosystem that has evolved over the millions of years that the Earth has existed, we cannot just continue to plague the planet like the insects these farmers are trying to kill.

February 6, 2015 ·

Kris Wragg ·

No Comments


Posted in: Politics
Done my first blood donation of the year today!
The only problem with improving your health is that it seems to take longer to fill the bag when your resting heart rate is low and you have donated blood enough times that it no longer bothers you too much. Blagged myself a packet of crisps and a biscuit whilst having a drink after donating, bit of a quick lunch before heading back to the office.
Anyway hopefully it will save a life or two, I highly encourage others to take 30 mins of their time to go and donate blood if they are healthy enough to do so.


January 30, 2015 ·

Kris Wragg ·

No Comments


Posted in: Uncategorized
Went to see KoRn and Slipknot last night with my brother Nick at the Sheffield Motorpoint Arena. Not seen either of these bands for quite a few years, I think the last time was at Download Festival and I believe Jon Davis didn't actually end up being there for KoRn as he had his vocal chords?
Anyways the gig was really great, KoRn played quite a lot of their older material which put me on a bit of a trip back to my teens and gothing it up. Slipknot were as heavy and brutal as every time I have seen them, definitely got my heart going and screaming along with the songs, fists pumping in the air.
Bit deaf today and with a sore throat, but totally worth it! Nothing quite like a night of chest thudding metal to get you going in the new year!

January 17, 2015 ·

Kris Wragg ·

No Comments


Posted in: Gigs
Today I have joined the Green Party as I have had enough of just ranting online, signing petitions and pestering my MP. It's time to take some real action in sorting out this mess we've got this country in to!
There are many groups that I am a big advocate of which align with the Green Party's policies such as the Open Rights Group and Positive Money. I really don't think this country can continue down it's current path any more.
We are continually seeing scandals in the newspapers, the Government continually ignoring advice from scientific research and just blatantly ignoring its populace as a whole. This just can't continue, we are supposed to have a democracy but it seems our Government is mostly there just to benefit businesses and those that are stinking rich.
I am going to do my best to get a local Green Party up and running in Bassetlaw and ensure we have a candidate for the General Election, even if it ends up being me standing!

December 22, 2014 ·

Kris Wragg ·

No Comments


Posted in: Politics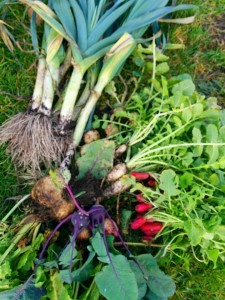 Been to the allotment today and done a bit of a winter harvest and to grab a few things ready for Christmas. Grabbed several leeks, some radishes, white beetroot and various leafy greens. All in all a pretty nice selection of veg for the winter, shame the temperature is likely to plummet soon.
Pretty happy with what we've accomplished on our allotment this year, hopefully next year will bring us closer to being less reliant on shopping at the supermarket.

December 21, 2014 ·

Kris Wragg ·

No Comments


Posted in: Allotment